Dinner
Multiple course dinner adjusted to your wishes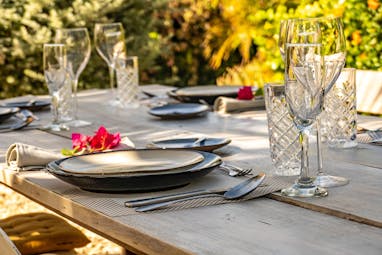 Don't feel like cooking or organizing a special dinner?
I'm sure together we can organize the perfect gathering!
I love to cook you a luxury several course dinner with the amount of courses you prefer.
When planning a dinner I would like to know the amount of guests, if there are any allergies I need to know about and if you have a special request. Since I only work with fresh ingredients and it has shown to sometimes be a challenge on a small island I will make the menu a few days prior to the planned dinner. In case you have any special requests please let me know and I'll see what I can do for you.
On the evening of the dinner I will arrive around 1 hour prior to the time I serve the first course, I will set the tabel for you and make my final preparations for the first course.
Prices
3-course menu $77.50 per person
4-course menu $85,- per person
5-course menu $92.50 per person
6-course menu $99.50 per person
Prices above are for 4 persons or more, including ingredients but excluding 6% Government Tax. When you would like to book my services multiple times during your stay I will make you a special quote.
Planning a romantic dinner for 2?
No problem! For 2 guests I work with an hourly rate and excluding ingredients. I'll show you the grocery receipts afterwards.