Breakfast
Best way to start your day is a good breakfast!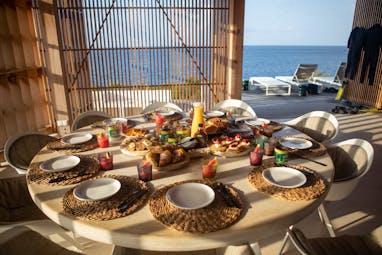 Breakfast the way you like it
They say breakfast is the most important meal of the day, well let's make it a good one!
I don't have a basic breakfast because all of my guests have special wishes and I want everyone to be able to enjoy my breakfast the way they like it best. What I can tell you is the following:
Every morning I will get you fresh breads from a local artisan bakery.
I will make you my own homemade yoghurt
I only work with fresh ingredients
Let me know about your special request I will serve it to you the next morning.
Prices
Service charge
1 - 5 persons $145,- (excl. taxes)
6 - 10 persons $185,- (excl. taxes)
Every guests extra will be an additional charge of $12,-
Book my services for a minimum of 6 days and you will receive a 10% discount on the service charge.
Besides the service charge the charges of the ingredients will be separate and as is. Grocery receipts will be handed over with the final invoice.
Book your private breakfast